You Can Quote Me On That – A Collection of Quotes by Cat Ellington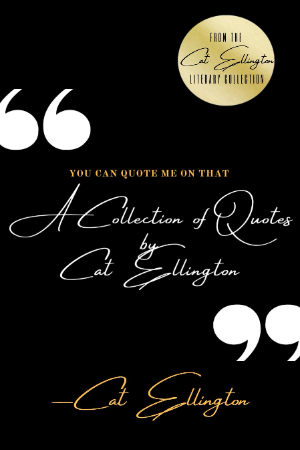 109 Pages
ISBN 978-1733442145
From the author of Reviews by Cat Ellington, More Imaginative Than Ordinary Speech, and Memoirs in Gogyohka comes a uniquely waggish narrative that despite being unlike its literary forerunners, still serves to be just as enlightening.
Introducing You Can Quote Me On That: A Collection of Quotes by Cat Ellington, a fun-filled assemblage of recitations spoken by the woman herself.
Comprising over 300 public quotes that span seven years, You Can Quote Me On That features an extended stream of declarations that were derived from a variety of print and online sources, including interviews, literature weblogs, published books, famous quotes databases, etc.
Both fun-loving and serious in its approach, You Can Quote Me On That elects to showcase Cat Ellington's outgoing, straightforward, and outspoken personality through various topics that center around confidence, uncertainty, independence, philosophy, faith, inquisitiveness, perseverance, and much more.
Garnished with an introduction composed of seven structures of Tanka poetry, Cat Ellington once again talks it like she walks it. And you can quote her on that.
Quotes by Cat Ellington. Witty wisdom.
About Cat Ellington (Chicago, Illinois Author)
Cat Ellington is an American songwriter, casting director, poet, author, and entrepreneur from Chicago, IL. She is best known for her creative contributions to the diverse industries and fields of music, movies, art, and literature.
Cat Ellington's professional credits list a collection of nonfiction books, including the Reviews by Cat Ellington series, The Making of Dual Mania, More Imaginative Than Ordinary Speech, Memoirs in Gogyohka, and You Can Quote Me On That. In film and music, Ellington's credentials include her work on the psychological thriller, "Dual Mania," and its soundtrack--on which she wrote five original songs: "The Book of Us," "I'm Still in Love," "Something in Your Eyes," "Gett Out," and "I Do."
Outside of her professional element, the award-winning creative enjoys reading, listening to music, cooking, collecting vintage and modern charm bracelets, watching movies and classic TV shows, sailing, jet-skiing, playing tennis, and eating frozen yogurt -- lots of it.
Cat currently lives in Chicago with her husband, their three children, and a pet Pomeranian.
Other Books by This Author