Uncommon Glory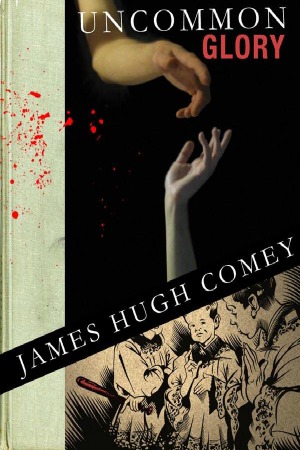 188 Pages
ISBN 978-0-9831051-0-7
Christopher McCarthy, a 12 year old, Irish-American boy from just outside Philly (PA), defies a psycho bully and is beaten senseless in a graveyard. When he comes to, he discovers that he can talk with the crucified Christ in his church.
It's spring 1957. Life is slower, families are stronger, and friendship lasts forever. But, violence swirls around quirky teenagers and adults as rock and roll pulses from the radio. In this "American Graffiti" meets "A Prayer for Owen Meany" story, Chris discovers that he must open up and redeem the lives of others, while he struggles to make sense of his own.
Moby Dick, a devilish teenager who carries a nightstick, Mr. Peanut, a suicidal teacher, Ricky Nelson, the Atlantic City Steel Pier diving horse, and Ted Mack's Original Amateur (the 50s version of "American Idol") are woven throughout this sad and funny story. Loneliness and hope are the back beats in this coming of age novel about caring, conscience and serious slow dancing.
About James Comey (Philadelphia, Pennsylvania Author)
James Hugh Comey has written a mystical novella (DEATH OF THE POET KING, Branden Press), a magical realism enovel (UNCOMMON GLORY) and a post-apocalyptic enovel, THE WILD WORLD. Both enovels are available from Amazon Kindle Bookstore. He's a co-founder and the Writer-in-Residence of Stages of Imagination, a nationally recognized, nonprofit, entertainment and learning organization. His plays have been seen by 100,000+ children.
His CDs were awarded a Parents' Choice Recommendation and a Parents' Choice Award, and his film, WOODEN HEART, received Silver Telly Awards for Children's Programming and Children's Audience. His book reviews have been published by NEA Today (magazine read by 3.2 million teachers) and the International Journal of Multicultural Education. He's been a member of the Authors Guild since 1978 and acted in industrial and corporate films.
He taught from 6th grade through graduate school levels and received a masters degree from West Chester University and a doctorate from the University of Pennsylvania. He's cited in The International Authors and Writers Who's Who, Contemporary Authors, Who's Who Among America's Teachers and other national and international reference books. When not writing, he's often found riding his motorcycle on PA country roads.
Other Books by This Author