Twisted Reasons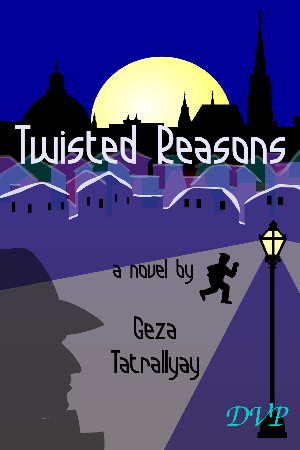 286 Pages
ISBN 978-1928049128
The year is 1949, and András Bányai, a young Hungarian scientist, and his fellow Gulag inmates are being forced to carry out the deathly task of dismantling uranium rods by hand at the nuclear plant, Mayak, after a serious accident in Stalin's race to produce an atomic bomb. Sixty-five years later, Adam Kallay, an American nuclear physicist working at the International Atomic Energy Agency in Vienna, is alerted to the disappearance of enough radioactive material to create a bomb from Mayak ― which now serves to warehouse uranium from the former Soviet empire and is the most contaminated place on earth. He and Anne Rossiter, his Interpol contact, devise a plan to catch the alleged perpetrators. Adam though, disappears and is presumed dead, just as his childhood friend and Harvard roommate, Greg Martens ― like Adam, with a Hungarian family background ― arrives in Vienna at his invitation to travel back together to Hungary to discover their roots. At first wondering whether Greg's sudden appearance in Vienna had anything to do with Adam's demise, Anne increasingly finds herself being attracted to the self-deprecating, handsome author of crime novels. Greg learns the details of his friend's accident from Adam's acquaintance, Hetzel, who also tells him about Julia, Adam's beautiful Russian girlfriend, an illegal alien in Austria working as a stripper at the Revuebar Casanova. When Greg tracks her down, they find evidence to suggest that Adam may in fact not be dead, but has gone to Mayak to find the perpetrators of the heist. Greg is convinced that Adam is alive when, after an evening at the opera with Anne, followed by dinner and love-making, he thinks he sees Adam. He believes his friend has been leaving clues and needs his help, so he decides to follow him to central Russia. Julia learns that her mother, who lives near Mayak, is dying of cancer, and asks Greg to visit her.
About Geza Tatrallyay (San Francisco, California Author)
Born in Budapest, Hungary, Geza escaped with his family in 1956 during the Hungarian Revolution, immigrating to Canada the same year. He grew up in Toronto, attending The University of Toronto Schools, where he was School Captain. He graduated from Harvard University with a BA in Human Ecology in 1972, after taking a break in his studies to work as a host in the Ontario Pavilion at Expo'70 in Osaka, Japan. Geza was selected as a Rhodes Scholar from Ontario, attending Oxford University and graduating with a BA/MA in Human Sciences in 1974; he completed his studies with a MSc in Economics from London School of Economics and Politics in 1975. Geza represented Canada as an epée fencer in the 1976 Olympic Games in Montreal.
Geza's professional experience has included stints in government, international organizations, finance and environmental entrepreneurship. Since 2004, he has been managing a few investments mainly in the clean energy sector and acting on a few boards and investment committees, as well as devoting himself to his family and his writing. Geza is a citizen of Canada and Hungary and, a green card holder, currently divides his time between San Francisco, and Barnard, Vermont.
Geza is a prolific writer and has produced thrillers, memoirs and collections of poetry.
Other Books by This Author