The Serving Leader – Five Powerful Actions to Transform Your Team, Business, and Community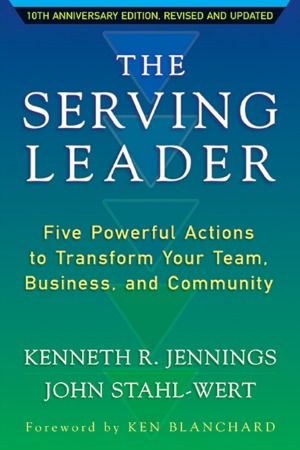 163 Pages
ISBN 978-1626566149
It's people who make organizations great, so how can leaders best help their people achieve that greatness? As Ken Jennings and John Stahl-Wert show in this new edition of their bestseller, you can't just demand greatness - you have to inspire it.
While Jennings and Stahl-Wert use a compelling fictional story to outline the basics of Serving Leadership, all the characters in it are based on real people, the organizations depicted are based on real organizations - and the results they achieved are what really happened.
This edition features a new foreword by Ken Blanchard, a new introduction, and a new chapter checking back in with Mike, the main character, to see what he has learned in the twelve years since he embraced Serving Leadership.
About Kenneth R. Jennings (Pittsburgh, Pennsylvania Author)
Kenneth R. Jennings is a best-selling author, speaker and active consultant in organizational leadership. Ken counsels senior leadership teams at many healthcare, technology, pharmaceutical, and biotechnology organizations.
He advises healthcare and integrated delivery systems on mission-critical projects while helping them build leadership skills. Ken has most recently worked at The Cleveland Clinic, Johns Hopkins University, Accenture, Fresenius Medical Care, Texas Health Resources, and Intermountain Healthcare.
The heart of his leadership philosophy is "putting servant leadership to work." With his partner and wife, Heather Hyde, Ken founded Third River Partners, which provides leadership development and change management services, while helping leaders adopt a serving others approach.
About John Stahl-Wert (Co-Author)
John Stahl-Wert is a best-selling author, speaker, and expert in growing great leaders. He touches the hearts of thousands of people from around the world through his highly praised books, keynote addresses, collaborative workshops, and work helping organizations bring out the very best in their people.
John serves as president of Newton Institute and director of its Center for Serving Leadership, providing services that enable individual, organizational, and community transformation based on the five actions in The Serving Leader. His passion is to build a worldwide community of serving leader practitioners.
John is co-author of Ten Thousand Horses; The Serving Leader for the People of God; author of With: A True Story; and author of a weekly blog on serving leader principles.