The Power of Faith-Driven Success – A Journey to Living Your Dream by 30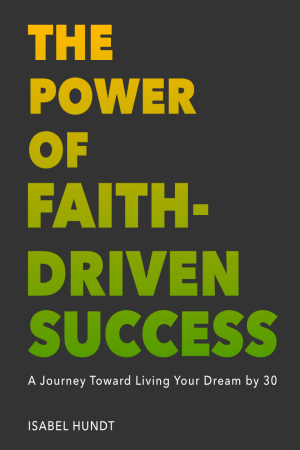 158 Pages
ISBN 978-1517571191
A life worth living starts by connecting with yourself and God.
The Power of Faith-Driven Success uncovers your gifts to bring profound clarity to your calling in life. Written from a thoughtful, spiritual perspective of the human mind, Isabel Hundt leads readers on a journey to self-discovery, awareness, and self-reflection. With insight, stories, and exercises, she supports you in discovering who you're meant to be.
By guiding readers to a deeper understanding of how our brains function as well as the energy we create and send out, Isabel teaches you how to tune in to your true self.
About Isabel Hundt (Chicago, Illinois Author)
Isabel Hundt is the author of The Power of Faith-Driven Success and a certified Vision & Transformation Coach, international speaker, and ambassador of Global Presence Leadership. From a young age, Isabel experienced the world from a bird's-eye view, seeing life from a different perspective. Now she uses her gift by combining the knowledge of sociology, psychology, and neuroscience with aspects of emotional intelligence. She travels to conferences and universities to share her inspiring and enlightening message of tuning in to our true selves and to understand our emotional world.
Isabel is a proud Christ follower, wife, and mother to son Jonah. When she's not helping people follow their dreams, Isabel practices kickboxing and body combat.