The Positive Influence Leader – Helping People Become Their Best Self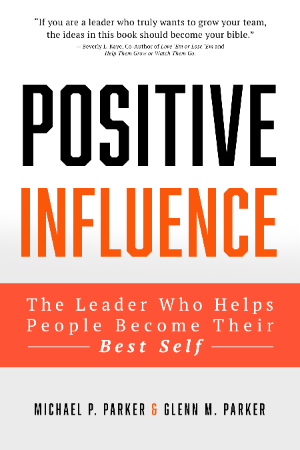 144 Pages
Human Resource Development Press
ISBN 978-1610144568
Everyone needs positive influence in their lives. If you think about the various types of leaders you've encountered—parents, teachers, coaches, bosses—you can probably pinpoint one, perhaps more than one, leader who provided the support, the skills, or the inspiration that helped you become your best self.
The heart of the book is a series of in-depth interviews with a diverse group of leaders across a wide spectrum of organizations. The interviews are supplemented by similar experiences of famous and successful people such as Oprah Winfrey, Michael Bloomberg, and LeBron James. Michael and Glenn Parker demonstrate the various ways positive influence leaders have altered the lives and careers of many successful people. The book is both inspirational and instructive. It will move you to become a positive influence leader or help you learn ways to increase your current effectiveness as a leader. In one of the most compelling sections of the book, people share their encounters with negative people and the mechanisms they developed for coping—and in most cases, thriving—as a result of the experience.
Positive Influence: The Leader Who Helps People Become Their Best Self highlights four different types of positive influence leaders: the Supportive Positive Influence Leader, the Teacher Positive Influence Leader, the Motivating Positive Influence Leader, and the Role Model Influence Leader. Research by the Parkers indicates that you can be a positive influence on others in ways that are different from other positive influence leaders. While each style is different, any one of the four can be helpful, especially if it is targeted to your specific needs.
In addition to sharing inspiring stories and practical strategies, the Parkers provide you with the tools you need to assess your current style of leadership and become a more effective positive influence leader. In the book, you will find:
• a survey to help you identify your specific positive leadership style; • tips for becoming a more effective positive influence leader; and • an improvement plan that will help you increase your effectiveness as a positive influence leader.
Positive Influence: The Leader Who Helps People Become Their Best Self is both inspirational and practical. The personal stories offer a hopeful path for leaders looking for positive change, while the tools and techniques provide a solid foundation for effective leadership development.
About Michael Parker (Glassboro, New Jersey Author)
Michael Parker is a senior executive with twenty-five years of experience in financial services. Currently, he serves as the Managing Director for Rockefeller Capital Management, based in New York City. Prior to his current position, Michael led RBC U.S. Wealth Management Recruiting Strategy, where he led the firm to record-breaking growth in 2018. He has also spent time as the Executive Vice President and Chief Development Officer with HighTower, where he led the firm to a Top 5 ranking for six consecutive years and earned a listing in the Inc. Magazine 5000 fastest-growth companies for five consecutive years.
Throughout his career, Michael has been a featured writer for wealthmanagement.com, where he has authored more than a dozen articles, as well as the industry award-winning Blueprint for Growth.
About Glenn Parker (Co-Author)
Glenn Parker is an internationally recognized workshop facilitator, organizational consultant, and conference speaker in the area of teamwork, collaboration, and team meetings. He is the author of sixteen books including the bestsellers Cross Functional Teams: Working with Allies, Enemies and other Strangers, and Team Players and Teamwork: New Strategies for Developing Successful Collaboration. Glenn's widely-used instrument the Parker Team Player Survey has sold more than one million copies, and his seminal work on team-player styles was featured in a bestselling CRM video.
As a consultant for more than forty years, Glenn Parker has helped create high-performing teams at hundreds of organizations including Novartis Pharmaceuticals, Merck & Company, Bristol-Myers Squibb, Philips-Van Heusen, Telcordia Technologies, BOC Gases, and the U. S. Coast Guard.
Glenn holds a Master's degree from the University of Illinois and studied for the doctorate at Cornell University. Through his philanthropic endeavors, he has raised over $1.5 million for cancer research.