The Creative Mindset – Mastering the Six Skills That Empower Innovation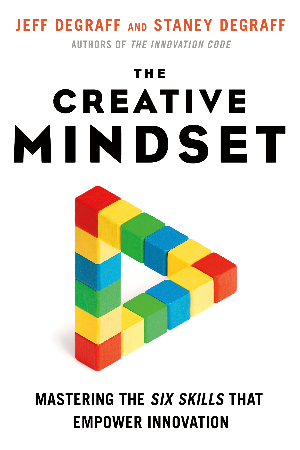 168 Pages
ISBN 978-1523090150
Nearly all of today's major innovation workshops and programs call on organizations to drive innovation. What they miss is that innovation comes from the personal creativity of individuals. And creativity doesn't require an advanced education or technical skills—all employees can be creative. Often, all they lack is a fitting mindset and the right skills.
The Creative Mindset brings how-to advice, tools, and techniques from two master innovators who have taught and worked with over half of all Fortune 500 companies. Jeff and Staney DeGraff introduce six essential creative-thinking skills that can be easily mastered with limited practice and remembered as the acronym CREATE: Concentrate, Replicate, Elaborate, Associate, Translate, and Evaluate. These six skills, sequenced as steps, simplify and summarize the most important research on creative thinking and draw on over thirty years of real-world application in some of the most innovative organizations in the world.
It's time to rethink the way we make innovation happen. Individual creativity is an immense untapped resource, and you don't have to be Beethoven to make a big difference. As the spirit of chef Gusteau proclaims in the Pixar classic Ratatouille, "Anyone can cook."
About Jeff Degraff (Ann Arbor, Michigan Author)
Jeff DeGraff is both an advisor to Fortune 500 companies and a professor at the Ross School of Business at the University of Michigan. His simultaneously creative and pragmatic approach to making innovation happen has led clients and colleagues to dub him the "Dean of Innovation."
He has written several books, including Leading Innovation, Innovation You, and The Innovation Code. Jeff's thoughts on innovation are covered by Inc., Fortune, and Psychology Today. He has a regular segment on public radio called The Next Idea. His new book, The Creative Mindset, brings 6 creativity skills to everyone and will be published in September 2020.
About Staney DeGraff (Co-Author)
Staney DeGraff, CEO of the Innovatrium, works with large organizations, universities, and nonprofits to create a sustainable innovation ecosystem that can grow organically and connect the dots between cutting-edge research, talent acquisition and retention, commercialization, and economic development.
Her research is focused on generating Constructive Conflict™ in teams and organizations to produce innovation and on quantifying the commercial and social value of innovation.
She co-wrote The Innovation Code with her husband Jeff and they are collaborating on a new book, The Creative Mindset, to be published in September 2020. Staney has an MBA and an MSE in Computer Science and Engineering from the University of Michigan.