The Case of the Bygone Brother – An Alex O'Hara Novel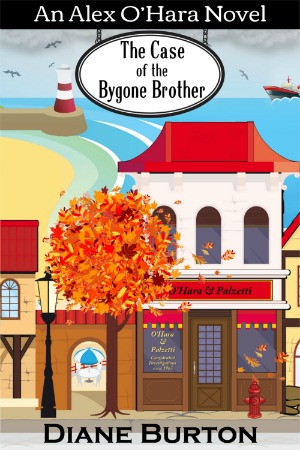 218 Pages
ISBN 978-1511513609
Small Town . . . Big Case.
After taking over O'Hara & Palzetti, Confidential Investigations from her dad and his partner, Alex O'Hara's bottom line has taken a plunge. So when a femme fatale offers her the case of a lifetime along with a huge advance, Alex sees her finances on a definite upswing. She might even be able to change her diet from ramen noodles to prime rib. But someone doesn't want her to find the long-lost brother. Complicating matters is the return of Alex's old heartthrob, Nick Palzetti. Is he really there just to see her or does he have an ulterior motive? The Lake Michigan resort town of Fair Haven is abuzz with the news that O'Hara & Palzetti are together again.
About Diane Burton (Grand Rapids, Michigan Author)
Diane Burton combines her love of mystery, adventure, science fiction and romance into writing romantic fiction. Besides the science fiction romance Switched and Outer Rim series, she is the author of One Red Shoe, a romantic suspense, and The Case of the Bygone Brother, a PI mystery. She is regular contributor to Paranormal Romantics blog and Pandora's Box Gazette. Diane and her husband live in West Michigan, close to their two children and five grandchildren.
For more info and excerpts from her books, visit Diane's website: http://www.dianeburton.com
Other Books by This Author