The Butcher's Bill – A Linus Schag, NCIS, Thriller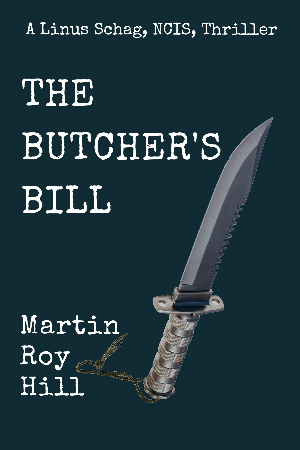 282 Pages
ISBN 978-0692802939
In Iraq, a shipment of $9 billion in cash goes missing. Each effort to find it ends in death. In Southern California, a mercenary's murder, a severed head, and a bloody hand-written message spark a massive manhunt.
The man connecting these two events is William Butcher, aka The Butcher. Those who stole the money want him dead. The cops want him for murder. Butcher's only hope is his former NCIS colleague and closest friend, Linus Schag.
Struggling with conflicting loyalties, Schag walks the thin line between doing his job or betraying his friend. Working from opposite ends, Schag and Butcher peel back the layers of conspiracy, revealing a criminal enterprise reaching into the highest levels of government.
Ripped from today's headlines, the plot of The Butcher's Bill ranges from the California mountains to the waters of the Pacific, and will keep readers on edge until its final, explosive climax.
About Martin Roy Hill (San Diego, California Author)
Martin Roy Hill spent more than 20 years as a national award-winning staff reporter, investigative journalist, and editor for newspapers and magazines before becoming a Navy analyst specializing in battlefield medical operations.
His freelance credits include Reader's Digest, LIFE, Newsweek, Omni, American History, Coast Guard Magazine, Retired Officer Magazine, the Los Angeles Times Sunday Opinion Section, and many more. Much of his freelance work involves historical topics, especially military history. He was a lead contributor to the 1995 WWII anthology, "From Pearl Harbor to Nagasaki: America at War," published by the Retired Officer Association. He also contributed to the American Civil War anthology "Gettysburg: Three Days that Saved the United States," published by I-5 Publishing.
Martin's short stories have appeared in such publications as Alfred Hitchcock Mystery Magazine, ALT HIST: The Journal of Historical Fiction and Alternative History, San Diego Magazine, Crimson Streets, Mystery Weekly Magazine, Nebula Rift, Alien Demensions, Devolution Z, and others. His first book, DUTY, was named the Best Short Story Anthology/Collection by the San Diego Book Awards Association for 2012 (SDBAA).
Martin is a professional member of the Mystery Writers of America, Sisters in Crime, and International Thriller Writers.
Other Books by This Author