The Amazement Revolution – Seven Customer Service Strategies to Create an Amazing Customer (and Employee) Experience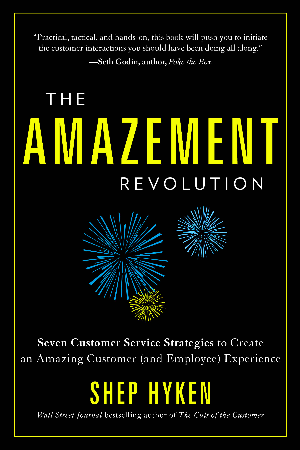 224 Pages
ISBN 978-1608321063
From the New York Times and Wall Street Journal Bestseller...
Customer service isn't a department--it's a philosophy that includes every person and aspect of the best and brightest companies. In a tough, competitive, and price-sensitive economy, customer service is one of the most essential tools to separate your business from the competition. In this sequel to the bestseller The Cult of the Customer, Shep Hyken delivers seven powerful strategies that any organization can implement to create greater customer and employee loyalty:
Membership: What if you treated the people you serve like members instead of customers?
Serious FUN: What if your employees felt a sense of fulfillment and enjoyment that made them loyal to you and your customers?
Partnership: What if your customers thought of you as a partner rather than just another vendor?
Hiring: What if you could implement innovative hiring processes to support your customer-service mission?
The After-Experience: What if you could create a memorable, positive experience after someone did business with you?
Community: What if you could create a community of evangelists--loyal customers who brag about you to their friends and associates?
Walking the Walk: What if every person in your company didn't just deliver, but lived and breathed your vision for amazing customer service?
Hyken shares more than one hundred insightful examples from fifty role-model companies that prove these strategies can and should be implemented immediately--by any organization, large or small.
Corporate and industry clients from all over the world have tapped into the simple and direct strategies of Shep Hyken. Now you can use his advice to build a successful, customer-focused organization and start your own Amazement Revolution!
About Shep Hyken (St. Louis, Missouri Author)
Shep Hyken is a customer service and experience expert and the Chief Amazement Officer of Shepard Presentations. He is a New York Times and Wall Street Journal bestselling author and has been inducted into the National Speakers Association Hall of Fame for lifetime achievement in the speaking profession.
Shep works with companies and organizations who want to build loyal relationships with their customers and employees. His articles have been read in hundreds of publications, and he is the author of Moments of Magic®, The Loyal Customer, The Cult of the Customer, The Amazement Revolution, Amaze Every Customer Every Time, Be Amazing or Go Home and The Convenience Revolution. He is also the creator of The Customer Focus™, a customer service training program that helps clients develop a customer service culture and loyalty mindset.
In 1983 Shep founded Shepard Presentations and since then has worked with hundreds of clients ranging from Fortune 100 size organizations to companies with less than 50 employees. Some of his clients include American Airlines, AAA, Anheuser-Busch, AT&T, AETNA, Abbott Laboratories, American Express – and that's just a few of the A's!
Other Books by This Author