Stone Angels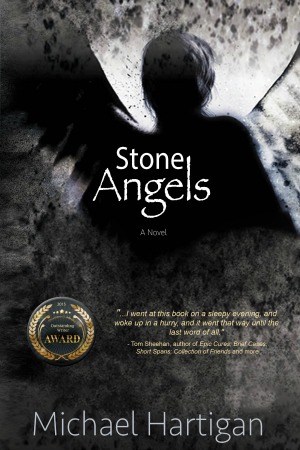 340 Pages
ISBN 978-1-939166-80-7
Guilt will always find you, no matter how far you go to escape it. Michael Hartigan's award-winning new thriller, Stone Angels, puts this maxim to the test, taking us into the mind of a young man desperately trying to escape his sins.
Stone Angels, Hartigan's gritty and fast-paced debut novel, follows Augustine Shaw as he embarks on a road trip from college in Providence, Rhode Island to Key West, Florida, where he hopes the sun, sex and insobriety will help drown his past. But the reprieve is only temporary. On the dark road home, Shaw is thrust into a dizzying array of memories, forcing him to relive the heartache he caused, the reputations he shattered, and the two friends he killed. Shaw races towards a final decision: bury his secrets forever, or seek redemption in the arms of a full confession.
In Stone Angels, Hartigan challenges the idea of angels as guardians and guides, when all too often we feel alone and bare during our darkest moments. With a unique and authentic style, Hartigan intricately details guilt's ability to poison from the inside out. Suspenseful and told with gripping action, this novel will keep readers on the edge of their seats and have them asking, would you confess?
About Michael Hartigan (Boston, Massachusetts Author)
Award-winning author and Providence College alumni Michael Hartigan has explored and written about unique people, places and traditions around the world. His novel, Stone Angels, was awarded the 2015 Outstanding Writer Award and published in 2015. This gritty, fast-paced thriller drops readers into the mind of a young killer at war with a guilty conscience, and his road to confession. Hartigan's fiction work is also featured in the anthology, Shoreline, published in 2016. Hartigan is an accomplished travel writer and journalist, featured in USA Today, Arizona Republic, Northshore Magazine, Destinations Travel Magazine, a monthly travel column in Wicked Local newspapers and more. Hartigan currently serves as the Communications Director for U.S. Congresswoman Niki Tsongas of Massachusetts. He lives in Stoneham, MA with his wife and daughter, and can be contacted at www.stoneangelsbook.com or Facebook and Twitter @StoneAngelsBook.
Stone Angels is the winner of the 2015 Outstanding Writer award from Merrimack Media, out of Cambridge, MA. The book has been featured by dozens of media outlets across New England, including North Shore Magazine, Lowell Sun, Lawrence Eagle Tribune, Nashua Telegraph and more.