Somethin' for Nothin' – An Alaska Misadventure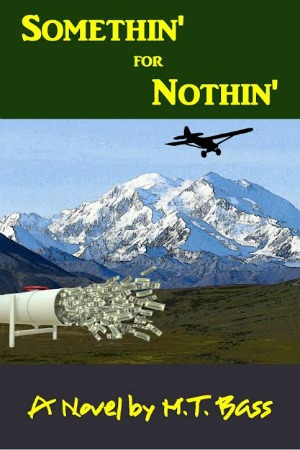 350 Pages
ISBN 978-0983380764
Anchorage, 1976 — Albert and Waxy flunk their Intro to Philosophy midterm and drunkenly decide to drop out of The Ohio State University and go to Alaska to "strike it rich" working on the Trans Alaska Pipeline. After Albert's father cuts off his credit card, they get bartending & dishwashing jobs at an Anchorage bar, where Albert becomes involved with the bar owner's girlfriend, CiCi, who is also the lead singer in the house band. Albert "acquires" a union card to get a pipeline job for himself, but then learns that Waxy has become part of a crazy scheme with Jimmi the Pilot, Beantown Bob and Moe the Eskimo to find and recover a long lost government payroll from an Air Force cargo plane that crashed in the Alaska Mountain Range decades ago.
About M.T. Bass (Cleveland, Ohio Author)
Ohio born & bred (Athens), M.T. Bass graduated from Ohio Wesleyan University with degrees in English and Philosophy. He has scribbled out six stories that explore the somewhat skewed, sometimes dark, and often certifiable reality of being an American: My Brother's Keeper, Crossroads, In the Black, Lodging, Somethin' for Nothin' and Untethered.
M.T. Bass lives, writes, flies and makes music in Mudcat Falls.
His books are available at Amazon.com, the Apple iBooks Store, Barnes & Noble, Kobo.com, Smashwords.com and independent bookstores through IngramSpark.
"I aim to pay forward at least some small portion of the fun I've had and the discoveries I've made from reading great books, holding fast to the notion that while victors may get to write history, novelists get to write/right reality." ~M.T. Bass
Other Books by This Author