Skating on Thin Ice – Seattle Sockeyes Hockey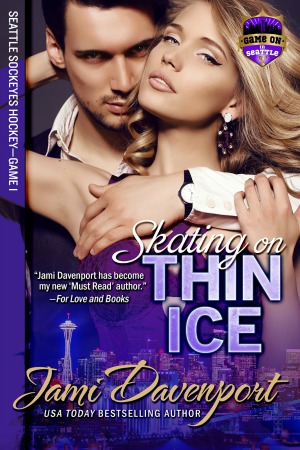 210 Pages
ISBN 9781311527905
He trusts his gut, she trusts her numbers, and neither trusts the other, as a billionaire's mission to bring hockey to Seattle clashes with his passion for the woman who holds his heart.   Ethan Parker, a billionaire determined to bring professional hockey to Seattle, will stop at nothing to realize his dream. After putting down a hefty deposit on another city's team, the sale is stalled as the parties involved evaluate their options. In the meantime, Ethan's investors insist he go undercover during the playoffs to get the inside scoop.
Lauren Schneider, assistant director of player personnel, gets no respect from the team's testosterone-loaded staff. When Ethan bursts onto the scene, full of charm and genuinely interested in her opinions, she shares the team's weaknesses and discovers a weakness of her own—for Ethan. But when his true identity is revealed, and he starts cleaning house based on her input, his betrayal cuts deeply on both a professional and personal level. Bound by an employment contract, Lauren reluctantly moves to Seattle to work for the newly christened Seattle Sockeyes and her sexy, infuriating boss.   Lauren and Ethan must come to terms with their passions—for the team, for hockey, and for each other. Will their situation build a frozen wall between them, or will their love burn hot enough to melt the ice shielding their hearts?
About Jami Davenport (Seattle, Washington Author)
USA Today Bestselling Author Jami Davenport writes sexy contemporary and sports romances, including her two new indie endeavors: the Game On in Seattle Series and the Madrona Island Series. Jami's new releases consistently rank in the top fifty on the sports romance and sports genre lists on Amazon, and she has hit the Amazon top hundred authors list in both contemporary romance and genre fiction multiple times. Jami ranked Number Seven on Kobo's Top Ten Most Completed Authors, an honor bestowed on the year's "most engaging" authors based on an average page completion rate by their readers.