Show Pen Promise – In the Reins Equestrian Romance Series Part 3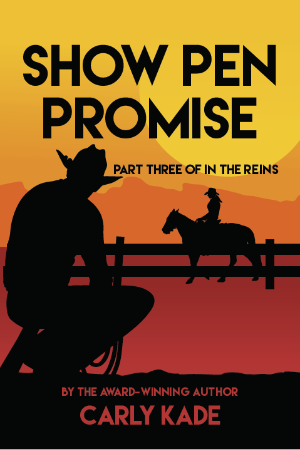 278 Pages
ISBN 0996887946
In Show Pen Promise, you'll start reading exactly where Cowboy Away left off, reconnect with some surprise horse characters, and learn what the future holds for wannabe cowgirl Devon Brooke and her cowboy McKennon Kelly. Is there a happy ending in store for them?
Just when everything is starting to come together in life and love, fate throws a curveball at wannabe cowgirl Devon Brooke. She has some tough decisions to make regarding cowboy McKennon Kelly, her future plans and her beloved horse Faith.
Devon is devastated when a simple mistake causes serious consequences for her horse, and she falls hard back to square one losing hope she can ever amount to the equestrian she wants to be. No longer running from his past, McKennon is desperate to bring Devon back to the saddle and honor his show pen promise, but he soon finds that Devon is ready to hang up the reins and her dreams of a buckle for good.
Can McKennon convince Devon that another horse will be able to take Faith's place in the show pen? Should he? Will the suggestion bring them together or push them apart?
Show Pen Promise, the highly anticipated third installment of the award-winning In the Reins equestrian romance horse book series, follows McKennon's quest to help Devon believe she has the strength to be the cowgirl of her dreams. Can Devon love a horse as much as she loves Faith? Will her relationship with McKennon and his show pen promise ever become reality? Is fate a friend or a foe?
About Carly Kade (Phoenix, Arizona Author)
Carly Kade is an award-winning equine author from Arizona. Creative writing makes her spurs jingle! She writes fiction about horses, horse shows, western pleasure and a handsome cowboy or two. Her books are for people just like her ... crazy about reading, horses and cute cowboys!
In her free time, Carly enjoys competitively showing her registered Paint Horse, working on her next novel, reading voraciously, spending time with her husband and two adopted dogs, and loves exploring the great outdoors.
​In the Reins, Carly's novel inspired by the equestrian lifestyle has been an Amazon bestseller for more than 10 weeks, is an EQUUS Film Festival Literary Award Winner for Best Western Fiction and has earned two Feathered Quill Book Awards in the Romance and Adult Book featuring Animals categories. The book is available now in Paperback and eBook on Amazon, Barnes & Noble and Kobo.
Other Books by This Author