Seven Days in Carrington, Volume 2 – Always and Forever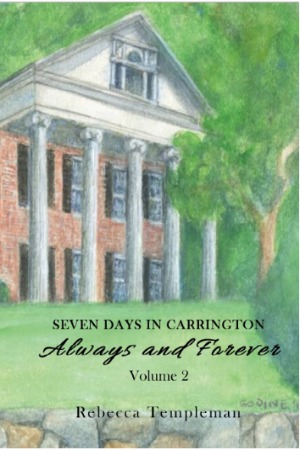 243 Pages
Create Space Independent Publishing Platform
ISBN 9781541091894
Welcome to Hamilton Hill where Anne Carter Thomas is the new Innkeeper. Set in just seven days, Volume 2 drops into Carrington again with the lasting nuances of lifelong friendship. SEVEN DAYS IN CARRINGTON, Volume 2—Always and Forever continues the heartfelt endearment in this fast-paced sequel. Buckle up as current events unfold in the unknowing, all-trusting sanctuary of Hamilton County, Virginia. Follow the EB-5 Visa program when a wealthy Moroccan reinvents the Lazy T Farm into a Thoroughbred stable. But beware of his struggle to adapt when the quest for power and influence threatens his American dreams.
Feel the tension in the undercurrent drug Cartel. And homegrown terrorism becomes the proving ground on the precarious pathway to citizenship. Fueled by these imminent dangers with lasting political repercussions, the genteelSouthern traditions clash with new cultures, in real time, and as East meets West.
Like watching the daily news but with a whimsical fancy, Templeman paints a dynamic portrait of immigration and the prejudices inherent to present-day assimilation struggles Yet, bonded in the will to triumph over tragedy, a rich human diversity passes through the revolving doors of compassion and love—always and forever in Carrington.
About Rebecca Templeman (Marshall, Michigan Author)
Born and raised in historic Marshall, Michigan, Rebecca 'Becky' Templeman was educated at Colorado State University, where she earned a B.A. Degree in English with a minor study in Journalism. A professional background includes a career in bank marketing, (then The First National Bank of Colorado Springs), and licensure to sell real estate in 1988.
Becky's family relocated to Albemarle County, Virginia in 1993 where they raised grass-fed Beefmaster cattle on a sustainable 1,000-acre farm. From 1995 - 2000 Becky was the marketing director of the public service announcements and development projects at the Rutherford Institute in Charlottesville. She holds real estate licenses in Colorado, Virginia, and Wyoming, first licensed in 1988. Her avocation is writing fiction, with a strong female-upward thrust and set in places that are familiar and friendly. Fascinated with setting and old houses surrounded by local color, Becky completed her debut novel in 2015 and published its sequel in 2017. Volume 3, SUMMER STORIES was released in July of 2017. Volume 4, SEASON OF LIFE, An Ode to Joe was published in May 2018. Volume 5 IF STATUES COULD SPEAK is due out in May 2019.
Other Books by This Author