Selling Simplified – 55 Fast Tips to Jump-start Your Real Estate Business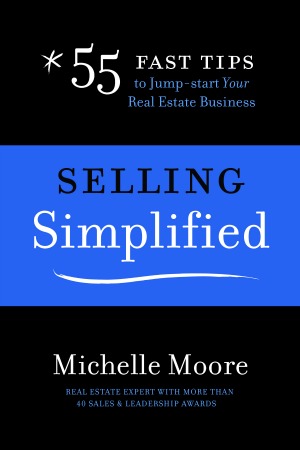 138 Pages
ISBN 978-0-9888461-0-4-51499
Written by Michelle Moore, a real estate selling and training expert with more than 40 sales and leadership awards, Selling Simplified: 55 Fast Tips to Jump-start Your Real Estate Business shares what it takes to reach the highest levels of success in real estate. Whether you are considering getting your real estate license, are new in the real estate business, or you have been selling real estate for over twenty-five years, this book is for you! Selling Simplified is an indispensable source of information that includes fifty-five fast tips to successfully sell real estate in any market, in any city, and in any state. The book is chock-full of wisdom, proven and factual tips, tools, and techniques that are guaranteed to give you the edge you need to excel in today's competitive real estate business environment. The beauty is that they can be implemented immediately and mastered over time. Selling Simplified is for anyone who is ready to realize their goals and fulfill their highest potential and is endorsed by Bob Schultz, One of the 50 Most Influential People in Home Building - Builder Magazine.
About Michelle Moore (Nashville, Tennessee Author)
Michelle Moore understands what it takes to produce at a high level. Abandoned as a child by both her parents, Michelle evolved into a powerhouse business woman. Michelle has earned over 40 sales, leadership, and literary awards throughout her career. She travels the country as an award-winning author, inspirational and motivational speaker, leadership coach, and sales trainer. She enjoys coaching, motivating, and inspiring men and women looking to achieve the highest level of success both professionally and personally. As the owner of Real Estate Coaching Simplified, the host of The Power of Real Estate radio show, and speaker for God Crazy Freedom Women's Conferences, Michelle speaks truth, love, and empowerment into the lives of men and women throughout the world.
Michelle lives in Lebanon, Tennessee, with her husband of nearly twenty-two years, Jeff Moore, and their two sons, Dillon and Carson. When she's not working or serving at church, you can find Michelle building forts out of pillows with her boys or planning their next adventure.
Other Books by This Author