Priscilla Alone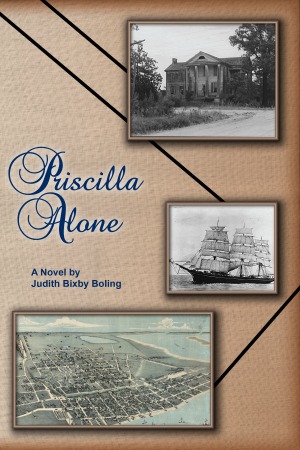 163 Pages
ISBN 978-1539049326
On a cold night in November 1865, Michel Llewellyn informs his only daughter, Priscilla, that she is betrothed to Josiah Pennyman, a man she has never met. Six months later, she boards the Emma, a merchant ship, to travel from Boston to the Pennyman ranch outside Corpus Christi, Texas.
Denied the company of her lady's maid, Priscilla embarks on the journey alone. Faced with superstitious seamen, the treacherous coral reefs of the Florida Keys, and her own doubts, she resolves to honor her father's wishes.
But, when Josiah Pennyman reveals his true nature, she hopes only to escape this man, and Texas, with her life.
About Judith Bixby Boling (Fresno, California Author)
Judith Bixby Boling has been writing short stories and essays since elementary school. In the early 1960s, several of her stories were published in the Antelope Valley Ledger-Gazette in Lancaster, California.
She spent more than thirty years working in various office positions, utilizing her research and writing skills while employed as a paralegal to a personal injury/workers' compensation attorney, and as a construction specifier.
After leaving the world of business and commerce in 2009, Boling returned to writing short stories. A chance meeting at a restaurant led to membership in a writers' critique group, which in turn opened the door to publishing Priscilla Alone. A connection on Twitter led to offering editing services to writers.
Other Books by This Author