Positively Powerless – How a Forgotten Movement Undermined Christianity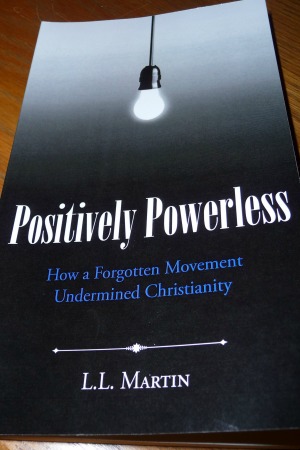 160 Pages
ISBN 978-1512722956
A vast movement of positive thinking took the twentieth century by storm and engulfed every area of our lives—including our churches. Put simply, positive thinking became a part of what it means to be an American. But should it be part of what it means to be a Christian?
L.L. Martin exposes the eye-opening history of this movement, documenting its roots in occult, mystical, and Eastern religious ideas. Though Christianity came under its power, the two philosophies stand in stark conflict. As a result, Christ was dethroned and the self was made sovereign, rewiring our minds and weakening our faith. This practical book, immersed in Scripture, seeks to reestablish you in a God-centered life.
Deepen your spiritual walk by embracing honesty. Discover the neglected paradoxes of Christian living. Learn to live in the grace by which you were saved. Positively Powerless will help you detect the false gospel of positivity and reconnect to your true source of power: the gospel of Jesus Christ.
About L.L. Martin (Greenville, South Carolina Author)
L.L. Martin has an MA in biblical studies and enjoys adult Bible-teaching ministry. The Martin family resides in Greenville, South Carolina, where their heart for hospitality has led them to host numerous international students.