Played!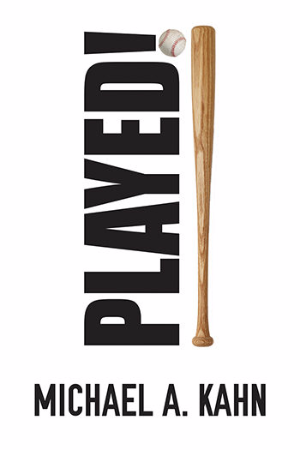 230 Pages
ISBN 978-1-4642-0836-2
Every law firm has its backroom bench of brilliant workaholic nerds ferocious in their commitment to the law and to their clients. Such a player is Milton Bernstein of Abbott & Windsor. He's highly valued by the partners for his skills, but untested in the courtroom.
Milton's younger brother, Hal, is his polar opposite--strikingly handsome, a high-school baseball legend in St. Louis who was on his way to the major leagues until he destroyed his prospects in a motorcycle accident. Hal had been, and still is, the adored Bernstein brother--worshipped by his mother, his aunts, and the rest of his family, plus all the high school and college cheerleaders. Neither brilliant nor driven, Hal has to face up to earning a living. For now he's killing time as a lifeguard at an exclusive country club. His days at the pool are mostly filled with women, kids, and fantasies about the hot babe called Cherry.
But the lives of both brothers are about to change. Cherry, the bombshell third wife of St. Louis' most shark-like litigator, Leonard Pitt, unexpectedly turns Hal's advances around. They become lovers. Coincidentally, Milton becomes the attack dog behind litigation to nail Pitt for running an insurance scam on his injured clients. Tangling with the Pitts is a game-changer for both brothers. Everyone is a tool of someone else. The players' roster widens to include a judge who's nursed a 30-year grudge against Pitt, the judge's astute clerk, and a crooked cop. Then Milton suddenly finds himself fielding Hal's arrest for kidnapping and murder.
Played! is fast-moving, fun and, at its core, a story of brotherly love and loyalty. And baseball.
About Michael A. Kahn (St. Louis, Missouri Author)
Michael Kahn is a trial lawyer by day and an award-winning author at night. He wrote his first novel, Grave Designs, on a challenge from his wife Margi, who got tired of listening to the same answer whenever she asked him about a book he was reading. "Not bad," he would say, "but I could write a better book than that." "Then write one, honey," she finally said, "or please shut up." So he shut up for a long time, and then he wrote one.
A former elementary school teacher, Mike is the author of The Dead Hand and 9 other Rachel Gold novels; a legal thriller, The Mourning Sexton, under the pen name Michael Baron; and The Sirena Quest (2015), a stand-alone novel that he describes, in Hollywood jargon, as "a Baby Boomer version of 'The Big Chill' meets 'The Maltese Falcon.'" His latest novel, Played!, features, as Booklist wrote, "the same sharp dialogue, wit, and clever plotting his fans have come to expect." He is also the author of numerous short stories, including the three collected in A Handful of Gold.
In addition to his day job as a lawyer, he is an adjunct professor of law at Washington University in St. Louis, where he teaches a class on censorship and free expression. Married to his high school sweetheart, he is the father of five and the grandfather of, so far, five.
Other Books by This Author