Passports and Plum Blossoms – An International Romantic Comedy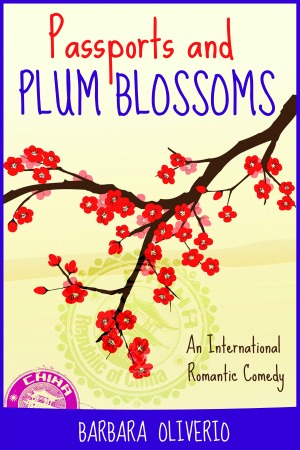 346 Pages
ISBN 978-1517208677
Annalise Fontana is feeling blue with no job, no boyfriend, and packed among her childhood memories in her parents' home. What could be more enticing than the opportunity to serve as a companion to her elderly Auntie Lil on a senior citizens' tour of China (with a side trip to Singapore)? She digs out her passport and packs her bags and assumes that she's in for a tranquil Jane Austenesque journey. Nothing could be further from the truth as the trip takes a turn before they even leave the country. What follows is a lively journey with a cast of quirky travel companions who are anything but dull. The Fontana girls immediately fit in to the festive group. While visiting heart-stopping sights, Annalise also has her heart begin pounding faster as she meets a number of charming young men. But who is the mysterious, brooding stranger who seems to pop up on the streets of Singapore, in Beijing's Forbidden City, and stays on her mind at the Great Wall of China?
About Barbara Oliverio (Denver, Colorado Author)
Readers' Favorite Award™ Winner Barbara Oliverio is the daughter of Italian immigrants and grew up in North Central West Virginia with a love of reading and a passion for learning. Following a career path that included being a teacher, journalist, and marketer, she has lived as far away from home as Italy where she practiced her family's native tongue as well as took advantage of living near to other European countries to travel extensively. A rabid Pittsburgh Steeler fan, she lives with her husband, an equally committed New York Giants fan, in suburban Denver where off-football-season dinner conversation is calmer and is usually accompanied by a meal she cooks from one of her mother's treasured recipes. Other interests include New York Times crossword puzzles, good movies, and travel. She volunteers extensively for her parish and writes for its publications. She also teaches part-time for the St. Catherine of Siena Institute.
Other Books by This Author