Lost in Transplantation – Memoir of AN Unconventional Organ Donor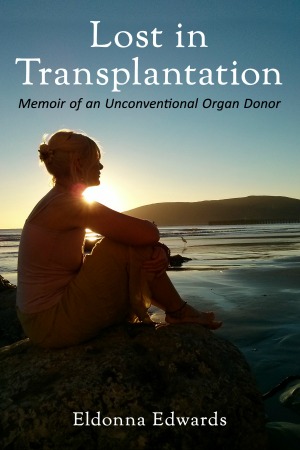 250 Pages
ISBN 0967038448
Anne Lamott meets Nora Ephron in this entertaining memoir of massage therapist and single mother Ellie's mission to donate a kidney to an ailing stranger. What starts out as a single act of compassion turns into a four-year struggle peppered with a plethora of bureaucratic and personal obstacles and an unexpected conclusion. Written with self-effacing humor and warm authenticity,Lost in Transplantation seeks to touch that place in each of us that hopes to find meaning and purpose in our overlapping lives.
One Gently Used Kidney, Free to a Good Home...
Told with humor and self-reflection, this inspirational memoir of courage and compassion is interwoven with anecdotal stories that help the reader identify what kind of person commits the selfless act of organ donation. Ellie,a self-described devout agnostic, is kind but often irreverent. She is generous, but she is no saint. Ultimately, becoming a kidney donor has given her a renewed sense of purpose and fulfillment. Lost in Transplantation asserts that we are all capable of altering a human being's life for the better, including our own.
"Beautifully written...hugely compelling page-turner. Edwards skillfully weaves a tale proving that fact is often stranger than fiction. Again and again Edwards' skill as a writer demonstrates what a gifted wordsmith can do with a nearly-unbelievable series of real life events. She is imminently vulnerable and refreshingly relatable, which makes her story that much more readable--and the be the change that Edwards was after, may very well be what happens to the reader after finishing her book." Tom Franciskovich, Publisher; SLOLIFE Magazine
About Eldonna Edwards (San Luis Obispo, California Author)
A veteran massage therapist and former journaling instructor, Eldonna Edwards cut her teeth on the back of Southern Baptist pews in her provincial Midwest hometown. Her memoir LOST IN TRANSPLANTATION chronicles a life-changing decision to donate a kidney to an ailing stranger. She's also the subject of the award-winning documentary "Perfect Strangers" that follows one kidney patient and one potential kidney donor in their search for a possible match. Her debut novel THIS I KNOW is forthcoming from Kensington in May of 2018.
Eldonna strives to bring the reader into the narrator's world so you feel as though you're looking over her shoulder as events unfold in real time. She's drawn to stories about community--the places we live, the families we're born into, and the tribes we gravitate toward. She prefers hometown settings peopled with recognizable characters from the grocery store, a neighborhood cafe or noisy schoolyard. Her books explore the bigger questions of one's meaning and purpose and the overlapping consequences of our choices, good and bad. Eldonna integrates humor into her stories to balance the complex and sometimes darker aspects of challenging situations. Eldonna--who also goes by Ellie--currently lives on the central California coast with her long-time partner Brer and beloved 4-legged companion Bella.
Other Books by This Author