Lilac Dreams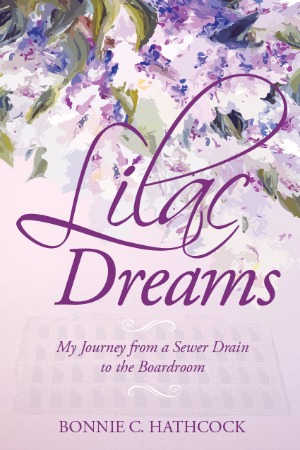 142 Pages
ISBN 0692783245
Bonnie Hathcock never wanted anyone to know how humble her roots really were. As she sat in the mahogany boardroom of one of the largest corporations in the country, she worried about being worthy enough to be there. She had made it to the top as one of the highest ranking officers of a Fortune 100 corporation. She kept her background out of view, because she feared being looked down on.
That was until the day she chose joy. Bonnie realized she was suspending the presence of joy in her life. She thought joy was something off in the future, when she wasn't working and when she didn't have so much pressure. Through a series of encounters with special people in her life, she realized she could be happy most of the time. She boldly embraced the pathway to unlocking her inner joy.
Lilac Dreams is a book that will move you to look beyond your current circumstances, help you to push past your limitations, and affirm your worth in this world. Bonnie believes if she can do it, you can do it.
About Bonnie Hathcock (Nashville, Tennessee Author)
Bonnie C. Hathcock has 35 years of experience in corporate America. For most of those years, she held C-suite positions at the top of Fortune 100 and 200 corporations. Bonnie began her career at Xerox Corporation, where she spent a decade learning world-class marketing concepts. Her business and marketing acumen eventually caught the attention of a high-ranking executive from Siemens A.G., who promoted Bonnie to the position of vice president of human resources for one of the largest Siemens companies in the United States. Bonnie would eventually be promoted to vice president of Human Resources for US Airways, and senior vice president of Human Resources for Humana Inc.
Bonnie's work ethic and drive for excellence awarded her the distinction as one of the Top 25 Most Influential Women in Human Resources in 2006. In 2007, Bonnie was named Human Resources Executive of the Year, a national award presented by HR Executive Magazine. In 2010, Bonnie was inducted as a fellow into the Human Resources Academy.
Bonnie has an MBA and has completed post-graduate studies at the Stanford University School of Business. She resides in Tennessee with her husband Lee and her Cavalier King Charles Spaniel, Cubby.