Lead with a Story – A Guide to Crafting Business Narratives that Captivate, Convince, and Inspire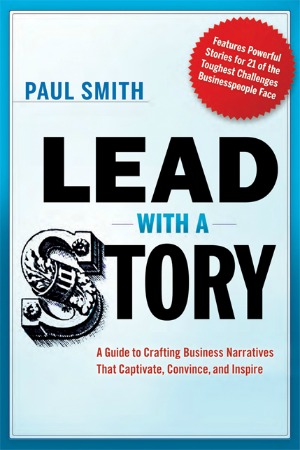 288 Pages
ISBN 978-0-8144-2030-0
Over the last decade, storytelling has become one of the most rapidly growing tools used by business managers and executives. Companies like Disney, 3M, Motorola, and the World Bank have adopted storytelling as a key method of influence and leadership. Instead of corporate memos, email, and PowerPoint presentations, storytelling is now being used to inspire and motivate organizations, to create a vision for the future, to define culture and values, to set goals and build commitment to them, and to lead change.
Lead with a Story contains ready-to-use stories for 21 of the toughest challenges leaders face, and a how-to guide for readers to craft their own. Complete with stories from over 50 companies like Procter & Gamble, Kellogg's, Merrill-Lynch, Saatchi & Saatchi, Dun & Bradstreet, National Car Rental, Wal-Mart, Pizza Hut, and more, this practical resource gives readers the guidance they need to deliver stories to stunning effect.
About Paul Smith (Cincinnati, Ohio Author)
Paul Smith is one of the world's leading experts on organizational storytelling. He's a keynote speaker, storytelling coach, and author of the books Sell with a Story, Parenting with a Story, and the bestseller Lead with a Story already in its 8th printing and available in 6 languages around the world. Paul is also a former consultant at Accenture and former executive and 20-year veteran of The Procter & Gamble Company.
As part of his research on the effectiveness of storytelling, Paul has personally interviewed over 250 CEOs, executives, leaders, and salespeople in 25 countries, documenting over 2,000 individual stories. Leveraging those stories and interviews, Paul identified the components of effective storytelling, and developed templates and tools to apply them in practice. His work has been featured in The Wall Street Journal, Inc. Magazine, Time, Forbes, Fast Company, The Washington Post, PR News, and Success Magazine, among others.
Paul delivers professional workshops and keynote addresses on effective storytelling for leaders and salespeople. His clients include international giants like Hewlett Packard, Ford Motor Company, Bayer Medical, Abbott, Novartis, Progressive Insurance, Kaiser Permanente, and Procter & Gamble.
Paul holds a bachelor's degree in economics, and an MBA from the Wharton School at the University of Pennsylvania. He lives with his wife and two sons in the Cincinnati suburb of Mason, Ohio. He can be found at www.leadwithastory.com.