In Lieu of Therapy – Brief Insights for Busy People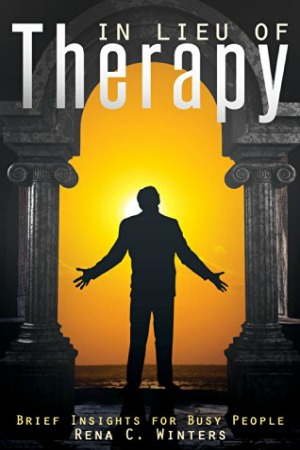 247 Pages
ISBN 978-1-63122-138-5
In Lieu of Therapy is a quick and easy read to uplift the spirit and motivate people in their lives. In today's accelerated and busy world, it is important to find niches of time that one can use to calm the inner soul, find pathways to reflect on our lives, and help us overcome adversity. We all need to pause and regroup our thoughts energies, and emotions at some point, and this book will do it.
The book is about a life followed through its seasons. This book is a collection of journal entries, brief Christian insights, short stories, reflections, and poetry written over a lifetime. Taken from a diary of daily living of Rena Winters, noted newspaper columnist and Hollywood film and television writer.
About Rena C Winters (Las Vegas, Nevada Author)
Rena Winters has enjoyed an outstanding career in the entertainment industry as a writer, talent, producer, and as a major television and motion picture executive. Her writing ability won the coveted Angel Award for Outstanding Family TV Special, "How to Change Your Life," which she co-hosted with Robert Stack. She wrote the two hour script and co-produced "My Little Corner of the World," winner of the Freedoms Foundation and American Family Heritage Awards, and "Peter Marshall" - One More Time."
Her producing credits include "The Juliet Prowse Spectacular" for 20th Century Fox, "Sinatra - Las Vegas Style," and "Sinatra in Paradise." Her feature films include "The Boys Next Door," "KGB, The Secret War," "Avenging Angel" and "Glory Road."
Her other writings include "Smurfs: The Inside Story of the Little Blue Characters," an expose of the cartoon industry. She is a contributing author to "I Pledge Allegiance," an anthology of patriots and heroes.