I Was Just a Radioman – The Memoirs of a WW2 Pearl Harbor Survivor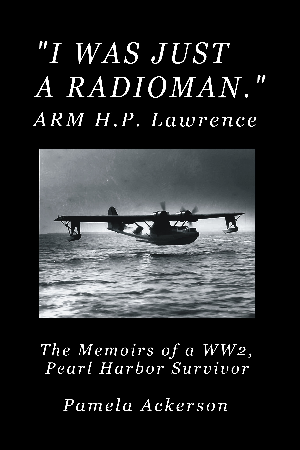 88 Pages
ISBN 978-1540447395
Their hearts were strong, and their courage endless.
Pearl Harbor survivor, Black Cat radioman, and decorated WW 2 veteran. ARM H. P. Lawrence, tells the true story of the fight against the Japanese in this compilation of his memoirs. One of only a handful of non-Native American code-talkers, H. P. Lawrence became a member of an elite fighting force, the Black Cats. Flying in their nocturnal missions, the Cats claws were sharp and their aim deadly.
From devastation to victory, the story of these brave men−the deadly, mysterious, and elusive Black Cats is a journey into the past where nightmares came true and hatred reigned. A time in history we should never, ever forget. The day which will live in infamy…was just the beginning.
About Pamela Ackerson (Orlando, Florida Author)
Time traveling adventurer and multi-genre author, Pamela Ackerson was born and raised in Newport, RI where history is a way of life. She lives on the Space Coast of Florida where everyone is encouraged to reach for the stars! When it's time to runaway, she's a hop, skip, and jump from Disney World and fun-filled imagination and fantasy. She writes time travel, westerns, Native American, historical fiction, non-fiction, WW2, inspirational, self-help marketing and advertising, US state journals, journals, and children's preschool/first readers.
Other Books by This Author