Get Up and Get Moving – 57 Things to Do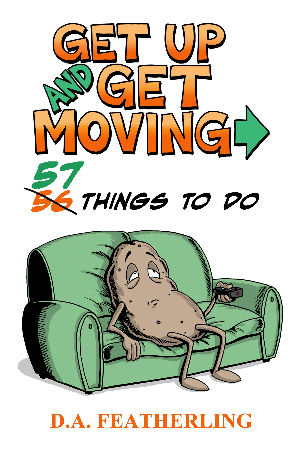 106 Pages
CreateSpace
ISBN 1717440396
D. A. Featherling offers the dedicated couch potato a chance to get back into life with lists of 57 activities that will get the most sedentary active.
Divided into easy-to-follow chapters, with an amusing, readable style, all adults can find something to do in this extremely useful book.
Dividend excerpts in the back of the volume offer samples of Featherling's fiction as well.
About D. A. Featherling (Austin, Texas Author)
D. A. (Dorothy) Featherling is a multi-published, award-winning local author who has penned a total of 30 books to date including adult mysteries, time travel fiction, end times fiction, romantic comedies, and a romance. She has recently completed a thirteen-book time travel adventure series being read by ages 9-99. The board game that inspired the books has also been produced.
Her non-fiction books include a 1930s Georgetown, Texas cold case murder (true crime), two e-books on giving school presentations, a book encouraging activity for sedentary folks, and a book on prayer.
She has also written numerous technical pieces and has won awards for journalism and public speaking and was the recipient of a national Daphne DuMaurier Mystery/Suspense Award.
Other Books by This Author