Dolores, Like the River – None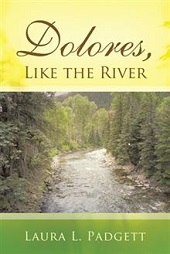 134 Pages
ISBN 978-1-4908-1438-4
In a time when the world appears to worship all things youthful, sometimes aging is seen as synonymous with diminished value and purpose. Because of this cultural posture, as older adults, we can be reluctant to accept God's call to share His truth and wisdom from the lens of an authentic life lived in His care. But accept that call is what Dolores did when she took an assignment to mentor, nurture, and mother a broken young woman who was running from abuse and dysfunction while heading down a road presenting self-destructive choices.
Dolores was sixty-five years old, had raised two children, taught hundreds, and was enjoying peaceful retirement years, with her life's partner, in a sleepy mountain town in western Colorado. Then she met Laura, who was in her mid-twenties. Dolores committed to being Christ's hands, feet and heart on the road to turning a hurting, frightened, and angry spiritual refugee into a woman of God, wife, mother, artist, and scholar.
As you follow the narrative of their thirty-five-year relationship, it may change the way you see beauty and purpose in aging. And it may convince you of or reinforce your belief in the God who spares no effort when reaching out to the broken and lost. The blessings to both women are too many to be counted. It is likely that the blessings to the reader will also be too many to be counted.
About Laura Padgett (Denver, Colorado Author)
Laura holds an M.A. in storytelling through creative movement from Regis University in Denver, Colorado. While studying storytelling, she discovered her love for and gifts in writing. She launched a writing career in 2012 by entering and winning in a national short story contest held by a major publisher.
Her first book, "Dolores, Like the River," chronicles the author's journey to recover from the effects of alcoholism and childhood abuse. She weaves a story of a broken young woman searching to find a way out of a past that threatened to shape her adult years through anger and distrust. Set in the Western Slope of Colorado in a town called Montrose, Laura tells of forgiveness and healing because of an older woman named Dolores, who loved her just as she was.
Padgett has published short stories in "Chicken Soup for the Soul," and the Xulon Press anthology "Letters to America." She writes a blog called, "Livin' What You're Given" on her website, LauraLPadgett.com and hosts an international radio show "Artists Nook" on http://www.kuhsdenver.com/ the first and third Friday of each month. She lives in Lakewood, Colorado with her husband, Keith. She had one son, two step-children and three grandchildren.