Discover the Joy of Leadership: A Practical Guide to Resolving Your Management Challenges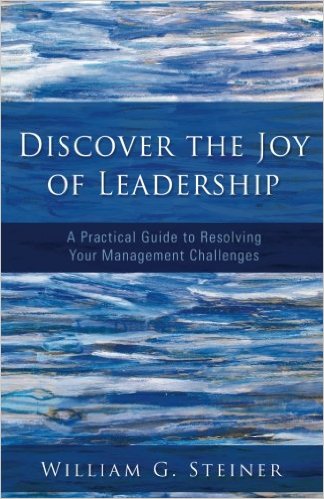 330 Pages
ECC Publishing
ISBN 978-0996957700
Leading organizations and managing people are daunting tasks, especially in this rapidly changing world. Discover the Joy of Leadership: A Practical Guide to Resolving Your Management Challenges is William Steiner's handy guide for managers and leaders that provides insights for a wide variety challenges. In it, you'll find:
-Time-tested models and theories from the very best practitioners and experts.
-Easily digestible chapters to assist in quickly identifying ways to respond to the challenges that confront you.
-Superior resources for leading others, making the best use of your time, communicating for influence and impact, dealing with change and developing relationships that matter.
-Targeted solutions to cut through the "noise" in your work world, based on Steiner's 30+ years of corporate leadership and coaching.
Providing the right tools at the right time, Discover the Joy of Leadership will help you become your own best leadership coach!
About Willy Steiner (Chicago, Illinois Author)
William G. Steiner is the President of Executive Coaching Concepts, a consulting firm dedicated to assisting senior executives in taking their individual and organizational performance "TO THE NEXT LEVEL." He has provided valuable counsel to senior executives throughout his career. Willy estimates that his 350-plus coaching clients in North America, Europe and Asia, in over 50 companies, have provided him a broad range of experiences that enhance his perspectives greatly.
Willy is the proud father of three grown children who are successfully making their way in the world. He lives in Evanston, Illinois, just a few blocks from Lake Michigan. He is an avid golfer, storyteller, walker and reader, and he loves to travel. He writes a leadership blog every other week on his website, www.executivecoachingconcepts.com. He is active in his church, works with Habitat for Humanity with the Solid Rock Carpenters and leads a monthly effort with a homeless mission. He recently took up scuba diving and is eager to explore the depths.