Crafting Believable Conflict – Story Building Blocks II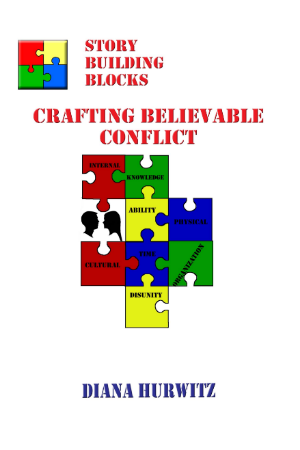 380 Pages
ISBN 1470199998
Good writers ask, "What if?" Great writers ask, "Why?" Characters in your story world walk around and do what you, the writer, program them to do. They may not know why, but you should. Effectively manipulating your characters' actions, reactions, and motives makes great fiction. Faulty logic and missing motive are plot holes that cause reader disconnect. Within these pages, we meet, warp, and torture 16 characters. We take them from cradle to the grave. We explore how their temperaments create and resolve believable obstacles at the overall story and scene level. We explore what makes your protagonist, antagonist, friends, and foes tick. We find out who they love and hate. We find out what kind of friend, parent, and lover they are. We learn how their strengths and weaknesses lead them to success and failure. Planners can use the information to assign each character a mannequin type and plan the obstacles and responses before they begin. Pantsers can channel the information presented and reference the information when they get stuck. Either way, understanding why characters behave and misbehave helps you craft believable conflict. Life is too short for bad fiction!
About Diana Hurwitz (The Villages, Florida Author)
Diana Hurwitz spent her childhood near Cincinnati daydreaming and writing poetry. She is often found lost in a book and dissects fiction for fun. She currently resides in central Florida with her husband and two cats.
When not writing, she indulges in reading, painting, jewelry design, travel, graphic art, and web design.She is a member of Mystery Writers of America and the Ladyscribes critique group.
She writes the Story Building Blocks series and the companion blog, Game On!, because she loves helping other writers and as a book addict thinks life is too short for bad fiction. She is the author of the young adult series Mythikas Island which she was inspired to write for her teen daughter who complained, "Why do YA books always have love triangles? Can't a girl be a hero without a boyfriend?" The answer is, "Yes, yes she can." She contributes to the Blood Red Pencil Blog with other fun editors and writers.
She can be found hanging out on Facebook far more often than she should be.
Other Books by This Author