Cooking the Books – A Cartoon Humor Book about Idioms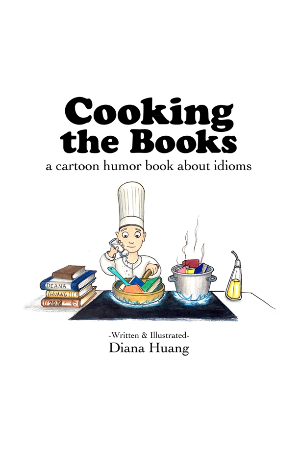 42 Pages
ISBN 9781387630684
Idioms are sayings particular to a language and culture. They are baffling to language learners of all ages as they are encountered in casual conversations, read in books, heard from radio, television, and film. Idioms are everywhere.
Enjoy these 32 cartoons that were drawn, and colored by pencil, from an ever growing list collected over the course of a year. May interesting ideas and conversations grow from looking at this
About Diana Huang (Orange County, California Author)
Artist, Art Teacher, Activist & Professional Daydreamer
Author and Illustrator of The Elemental Horses book series
Diana Huang is a professional artist who has been teaching & mentoring for 15+ years. By working for various clients and companies, she shows to her students how important basic art skills are applied to various industries.
Born and raised in Southern California to Chinese immigrant parents, life was a constant struggle to find identity and figure out what is right, what is true and what is real. Her studies and creative works produced have been in pursuit of figuring out and establishing her own professional identity in the United States. Her current art project explores idioms in a humorous way. Another writing project in the works, a science fiction/fantasy novel for your readers grades 4 and up, explores some of the issues she had to deal with while growing up.
Other Books by This Author