Breaking Tape: 7 Steps to Winning at Work and Life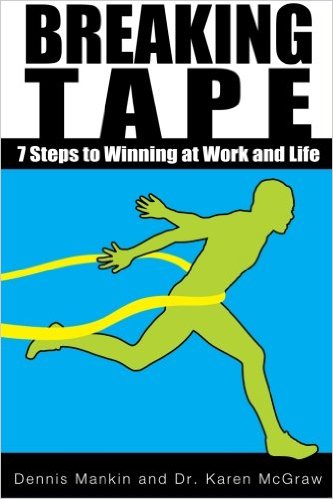 174 Pages
ISBN 978-0-9913567-0-6
Success—we all want it, we all seek it. You will want to read this book if you desire to be more successful either personally or professionally.
The purpose of this book is to teach you how to use the WINNING Method to achieve personal or work life success. This is not just another 'pie in the sky' self-help book about goals. You know too much talk and theory, and little substance in the end. Instead, this book gives you a tested, proven process to define the success you want, and the outcomes, goals, and strategies required to achieve it.
You probably have set more than your fair share of goals that you either struggled to attain or abandoned. We can all relate to that. That's why we (Dennis Mankin and Karen McGraw) wrote Breaking Tape: 7 Steps to Winning at Work and Life. We thought it was time for a new approach—something that will help you define the success you want. Something that will help you create a practical, easy-to-work plan to meet your goals and achieve success.
We developed the WINNING Method to help people just like you "break the tape" at the finish line that defines their success:
About Dennis Mankin (Asheville, North Carolina Author)
Dennis Mankin, the Managing Partner and Senior Consultant at Platinum Performance Partners, is a skilled senior manager, executive consultant and coach. For over 30 years, he has specialized in using Human Performance Technology (HPT) to help his clients achieve competitive goals through better performance. Dennis is the co-author of the acclaimed Performance DNA™ analysis tools, used by over 6,000 HPT analysts worldwide. Dennis received his Certified Performance Technologist (CPT) from ASTD and ISPI in 2003. He lives in Asheville, NC with his wife and 2 dogs (who think they are humans).
About Dr. Karen McGraw (Co-Author)
Dr. Karen McGraw, "The Performance Doc," is the Managing Partner of Silver Bear Group, LLC. She is an accomplished organizational consultant and life coach specializing in human performance improvement, leadership, and change. For over 30 years, she has helped clients achieve desired outcomes through training, process, technology, and change projects. Karen has authored six books and several methodologies and toolkits. She is especially proud to have co-authored the Performance DNA™ methodology. Karen resides with her husband and many pets in Austin, TX.