Be Amazing or Go Home – Seven Customer Service Habits that Create Confidence with Everyone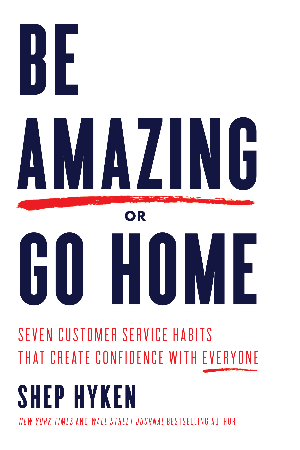 232 Pages
ISBN 978-1640951495
Want to amaze your customers, impress the people you work with, and outshine your competition? Going from average to amazing isn't an out-of-reach goal. In fact, amazement is a habit that anyone can master—and Shep Hyken knows the tricks to make it your own.
In Be Amazing or Go Home, Shep shares the secrets behind making his motto "Always Be Amazing!" an everyday lifestyle and shows how you too can become exceptional in business and in life. Drawing on the routines of incredible people, Shep demonstrates simple practices that can elevate your game, including:
Showing up ready to be amazing Being proactive Craving feedback Taking responsibility Embracing authenticity Focusing on excellence Turning misery into magic
Once you master these habits, you'll be able to create trust, build stronger relationships, make sales, advance your career, and more. Now is the time to step out of the ordinary and step into amazing.
About Shep Hyken (St. Louis, Missouri Author)
Shep Hyken is a customer service and experience expert and the Chief Amazement Officer of Shepard Presentations. He is a New York Times and Wall Street Journal bestselling author and has been inducted into the National Speakers Association Hall of Fame for lifetime achievement in the speaking profession.
Shep works with companies and organizations who want to build loyal relationships with their customers and employees. His articles have been read in hundreds of publications, and he is the author of Moments of Magic®, The Loyal Customer, The Cult of the Customer, The Amazement Revolution, Amaze Every Customer Every Time, Be Amazing or Go Home and The Convenience Revolution. He is also the creator of The Customer Focus™, a customer service training program that helps clients develop a customer service culture and loyalty mindset.
In 1983 Shep founded Shepard Presentations and since then has worked with hundreds of clients ranging from Fortune 100 size organizations to companies with less than 50 employees. Some of his clients include American Airlines, AAA, Anheuser-Busch, AT&T, AETNA, Abbott Laboratories, American Express – and that's just a few of the A's!
Other Books by This Author