A Conspiracy of Breath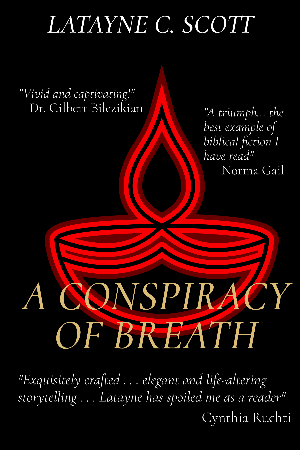 428 Pages
TSU Press
ISBN 978-1945750069
A Conspiracy of Breath changed me, deepened my love for The Breath, and swelled my appreciation for those who sacrificed so much to ensure people like me--millennia later--could turn the parchment pages and read Truth for ourselves. I did not want to leave this story and fear Latayne has spoiled me as a reader. That's how thoroughly it captivated my heart and rearranged my definition of elegant and life-altering storytelling.--Cynthia Ruchti, Golden-Scroll winning author of 20 books, including A Fragile Hope and Song of Silence
Inspired by the New Testament's Epistle to the Hebrews, whose authorship is rooted in mystery, this biblical novel revolves around Priscilla, a gentile who witnesses the rise and fall of Yeshua of Nazareth's ministry and slowly converts from worshipping the Roman gods to becoming a Christian. Scott (coauthor, Discovering the City of Sodom) vividly depicts life under Roman rule, capturing the terror of a time when Christians were subject to severe persecution. Drawing on contemporary detail is impeccable. Her absorbing prose style and skill in managing the many nuances of everyday life in the ancient world bring the historical events to life. --Library Journal, September 2017
Wonderful writing, characterizations that are precise and vivid, excellent historical detail, fabulous prose marked by fresh metaphors and great rhythm, and the description of romantic feelings--so hard to write--rock my world. Beautiful, lyrical.--Rosslyn Elliot, 2012 double Carol Award-winning author
Scott writes with a literary sensibility. Those who wonder who wrote the book of Hebrews (it's on my Questions to Ask God When I Get to Heaven list), and those intrigued by the person of Priscilla, will be fascinated with this well-researched, sophisticated read.--Tracy Groot, award-winning author of Madman and The Sentinels of Andersonville
About LATAYNE C. SCOTT (Albuquerque, New Mexico Author)
Latayne C. Scott writes controversial books. Her newest one, the critically acclaimed A Conspiracy of Breath, is based on the scholarly theory that a woman wrote part of the Bible. She has won awards for her writing, including from Pepperdine University, its "Distinguished Service Award." Her first book, The Mormon Mirage--also controversial-- has stayed in print almost continuously for almost 40 years. She has nearly two dozen other published books. Kregel will release her co-authored book, Leaving Mormonism: Four Scholars Tell Why They Changed Their Minds, in December.
One notable recent book is about the discovery of the ancient Biblical city of Sodom (Discovering the City of Sodom.) Her first novel is a murder mystery revolving around a code developed by the early Mormon church. Both are.... controversial.
She's also won a national award for humor. Her kids say she's not so funny, but she just holds up the prize check.
With her sole-authored theological books, she is patron-supported and publishes those books exclusively with TSU Press.