105 Five-minute Plays for Study and Performance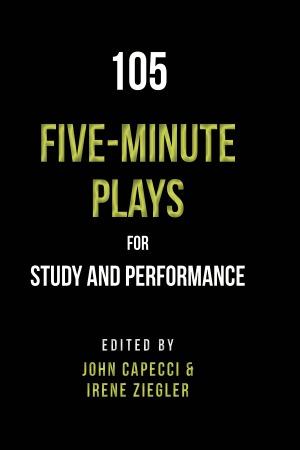 525 Pages
ISBN 9781575259109
A five-minute play? Is there such a thing? This collection of 105 gems says, briefly: "Yes."
Perfect for classroom study or to build a rollicking performance evening, these short works offer rich, complete worlds that are alternately lyrical, narrative, concrete and abstract. Some pack a wallop with powerful images while others use crackling dialogue to quickly establish character and motivation. Some move at the speed of light. Others freeze moments for calm meditation. Still others capture historic moments, dream states or slapstick absurdity.
Along with contemporary works by both new and established playwrights, editors Capecci and Ziegler have gathered historical examples—such as those of the Italian Futurists and an early "playlet" by Thornton Wilder—and they offer useful tips for the study and performance of these brief and bright works.
So set your timer: Go!
"Capecci and Ziegler have curated a truly impressive and diverse collection, perfect for both play festivals and classroom use. Even the superb introduction and Tips for Performance are succinct re- minders of the essence of theatrical storytelling. The breadth and range of authorship is inspiring. I will be using this in the classroom." —Theresa McElwee, NYU Tisch School of the Arts New Studio on Broadway
"This is a marvelous collection, full of mystery and humor and, above all, poetry. One can imagine all sorts of uses for these plays: at the theatre, at a party among friends, in scene-study classes and perhaps most deliciously on an evening alone in an armchair." —Cynthia Meier, Managing and Associate Artistic Director The Rogue Theatre
About John Capecci (Twin Cities, Minnesota Author)
John Capecci is a coach, consultant, and writer who helps nonprofits and corporations do award-winning work that touches hearts and turns heads. He's the owner of Capecci Communications, which he founded in 1996 after pivoting from his career as a communication studies professor. He provides clients presentation and media training, story development and coaching, and marketing communications. Frequently invited to speak on the communicative power of narrative, John also volunteers with arts, wellness and neighborhood organizations, and is co-editor of a best-selling series of monologue anthologies.
About Irene Ziegler (Co-Author)
IRENE ZIEGLER is an actor, teacher, playwright, and co-editor of seven collections of monologues and plays. She lives in Richmond, VA and participates on many levels in Richmond's diverse theatrical community.
She also acts in films and TV, and teaches acting and playwriting. She was the original voice on your smart phone's GPS, and was once yelled at by Anne Bancroft. ireneziegler.com irenezieglervoiceovers.com
Other Books by This Author